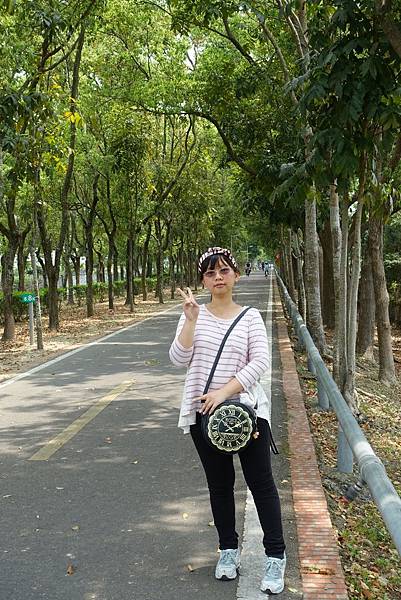 4/7 Cycling in Feng Yuan
During Tomb-sweeping holiday, Madeline and I finally fulfilled our promise in term 1. The promise was to go cycling at Feng Yuan, which is near Madeline's home. She had told me she had been cycling there when she was a child. On Wednesday, I took the train to Feng Yuan, and Madeline was waiting for me at Feng Yuan train station. She drove me to the entrance of the bicycle trails. We rented the bicycles, and it cost 150 dollars for each bike. We started to ride the bicycles around 10.30. The weather was great and at that time only a few people were riding. We didn't stop much on our way to Dong Shi since I just finished my breakfast and didn't feel hungry. Madeline planned to reach Dong Shi around 1 o'clock, so we could reach the restaurant before it closed. There were trees on both sides of the path, but the weather still got a bit hot when it was around noon. Fortunately, we reached the restaurant before it closed. It sold dumplings, and Madelin and her family always come to this restaurant for their dumplings after cycling. She recommended me to order dumplings and sour and spicy soup. I also ordered pickles which Madeline hadn't ordered before. At first, we assumed it would be Korean Kimchi, however, it turned out to be Taiwanese pickled vegetables. It was a bit sour but crisp. Both of us liked it a lot. The dumplings were also great, the skin was chewy, not soft.
After lunch, we passed by a juice shop, which I wanted to try. The price was much cheaper than in Taipei. Madeline ordered apple juice and I ordered melon juice, but, the clerk thought I wanted Melon milk. Madeline was about to tell the clerk. However, I said to her I was choosing between melon juice and melon milk. It was destiny for me to drink melon juice, which she thought I was talking rubbish. Then we visited the Hakka Museum at the end of the path. It introduced some of the traditional cuisine and pastry. Madeline introduced me to some of the Hakka terms. We also shared our preference for these dishes. Outside of the museum, we found some old rail tracks (the cycling path used to be a rail track for shipping wood.) We decided to take some pictures. We found a place that didn't have other people, and there were Pilose Beggarticks over the railway. We spent over 30 minutes taking photos. When I was satisfied, I found there were needles over our shirts and pants. It took us minutes to clean them up. On our way back to Feng Yuan, we also visited The lover's Bridge. After cycling, Madeline took me to the famous night market in Feng Yaun, the Miao Dong Night Market. The night market was only a street big, but it contained the tastiest food stands in Feng Yaun. Madeline recommended me to almost every stand I saw. Unfortunately, I can't eat much, so I had to decide what I was going to buy carefully. In the end, we had egg pancakes, Takoyaki, squid potage, shrimp Ba-Wan (meatball), and fried water chestnuts. Fried water chestnuts is one of the famous snacks in Feng Yuan, and it can't be found anywhere else in Taiwan. It was so delicious that it took us more than 40 minutes to buy it. To sum up, it was a fantastic day, and we made another promise to go Hou Li next time.